Mercomm: Institutional Communication Agency, as well as Creative
Today we introduce you to a long-standing client for whom, we at Mercomm, take care of institutional communication: A.S.Ter.
A.S.Ter S.p.A. is the Company of the Municipality of Genoa that operates in the field of public utilities, as the maintainer of the road, plant and green areas of the entire municipal territory.
Thus, A.S.Ter is involved in city maintenance of roads, green areas, lighting and traffic light systems, and nourishment and clearing of creeks and streams.
A multifaceted reality that needs fast, effective and as direct, yet empathetic and colorful communication as possible to attract the attention and sympathy of user-citizens.
Mercomm, which has always been by A.S.Ter's side, takes care of instutional communication for them on the web and social
We have built their corporate website and constantly maintain the usability of its content. We have, in addition, designed and implemented its redesign, improving usability and content layout to facilitate the user experience for users.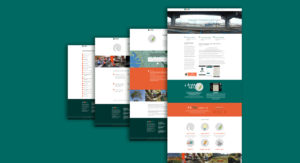 We have chosen a simple and direct approach to inform citizens about the maintenance work being carried out by A.S.Ter in the city of Genoa. The design was done in accordance with the criteria of transparency imposed on public administrations.
For A.S.Ter, we are also carrying out a Facebook and Twitter page content strategy and planning project.
Our goal as an institutional communications agency is to improve the reputation of the company and bring it closer to the citizenry by increasing moments of positive communication and confrontation. Because in Genoa, you know there are two flaws: the grumbling and the old man who comments on road works.
Does A.S.Ter do beach nourishment in Voltri? It is almost the norm for someone to complain that it was not done in, for example, the Sturla one.
Does it put directions to a parking lot? It is pointed out that there are no trees.
Does it put trees? Some people complain that there are no parking spaces….
The grumbling never fails; it is always around the corner.
Getting everyone in a city of nearly 600,000 to agree is clearly impossible. However, there is one thought that unites everyone: Genoa is beautiful! All Genovese love it. Thus, by communicating the news correctly and empathetically, beginning to love the caregiver becomes easy and natural.
Indeed, one cannot help but love all those who work hard for our beautiful city: workers, gardeners, technicians, planners… People who work night and day, rain or shine to care for our Superb home.
Since we took over the company's social communication, views and interactions have multiplied exponentially, with an increase in positive perceptions of the company's work expressed in comments, shares and likes.
By now more than 12 thousand people interact with the pages monthly, and we hope to engage more and more of them every day.
Each Facebook or Twitter post is accompanied by photos kept in an archive organized by us, which is also used when making brochures and other promotional materials.
According to the method of our institutional communication agency, the approval process for each editorial plan involves several steps that we follow through the most appropriate means: video calls, emails, Whatsapp, digital documents.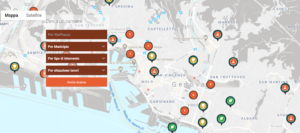 But for A.S.Ter we at Mercomm Communication do more. Much more.
For them we have, in fact, created a
site dedicated specifically to the Shipyards
. A portal constantly updated by the company's operators where Genovese can view active and completed construction sites, also noting reports of any roadblocks.
This project had arisen from A.S.Ter 's need to carry out a policy of transparency towards citizens and to build quick and effective instutional communication inherent in the progress of the various interventions between the company and the various municipalities. Through the system, in fact, they are updated weekly on the work being done in the city.
Over time, however, we realized that Genovese people like to be informed about what is happening in Genoa. And who increasingly pause to visit the Shipyards site. Daily, in fact, at least twenty people log on to the portal, with numbers increasing daily.
What began as an inter-agency public utility tool is now a transparency site that helps Genovese learn about the work A.S.Ter is doing in the city.
As an agency, we at Mercomm take care of A.S.Ter's institutional communication by handling their Press Review with an online and offline service.
The service includes a daily scenario of the print and digital newspapers referring to A.S.Ter and its activities, in addition to events, manifestations, etc… with news related to all other companies participated by the City of Genoa.
An institutional communications agency of a public agency has an often challenging role.
In Mercomm, however, challenges are nothing more than stepping stones to tomorrow.