Social Media Communication: Mercomm and the Arenzano Lido.
This time we introduce you to the Arenzano Lido, another of our clients whose social media communication we take care of, along with the
Port of Arenzano
.
For the past two years, we at Mercomm have been managing Arenzano Lido's social media communication, taking care of their Facebook and Instagram profiles.
Normally, editorial planning involves publishing two posts per week on both Facebook and the
Instagram page of the Arenzano Lido
. At times, however, this schedule may vary as needed.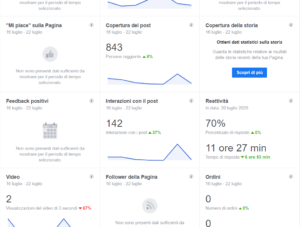 Coverage of a Facebook post has a monthly average of views that exceeds 800 people reached and an average of more than 150 interactions per post. Two thousand people every day visit the
Arenzano Lido Facebook page
knowing they can find the latest news or some interesting trivia there.
There is never a shortage of topics to talk about: the vitality of the Lido means we always have something to talk about, both in summer and winter. The Lido's social media are therefore always active!
During the winter season we keep alive, in the memory of customers, the memory of the most pleasant place of their summer. We recount the improvements being made during the cold months and count down to the new bathing season. During the summer, however, Arenzano Lido's social media communication deals with news of ongoing activities. We talk about animations, parties, sports activities, and so on.
A special moment, much followed on the Facebook page, was the June reopening, which took place through a drawing for the seasonal allocation of cabins.
Users liked the initiative so much that it was necessary to create a ranking list for booth reservations.
Throughout the summer, the Arenzano Lido has been able to organize activities and events of all kinds for young and old alike, always guaranteeing its guests total safety and peace of mind.
We at Mercomm told about the water aerobics classes and the spectacular sunsets over the sea. Of the entertainment and animation service for children, and that of canoe rental for athletes and sportsmen.
Today, with the season over, we continue to report on how the bathing establishment-acting in compliance with all anti-Covid regulations-gave some truly magical moments to its visitors, who were able to take advantage of lots of sun, sea and relaxation.
We at Mercomm have always stood by the Arenzano Lido, both on Facebook and Instagram. And we continue to support them today as we prepare to narrate on their social media about all the fall and winter activities that will be implemented in anticipation of the next big summer season!
Mercomm: always with our customers.